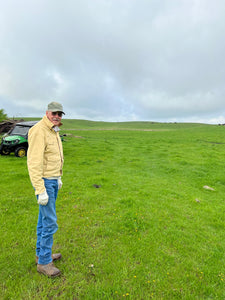 The History of Heritage Bison Ranches
Rocking P Ranch, Sisseton, SD, Owners, Bruce & Corrine Prins (Mom & Dad)
My Dad, Bruce Prins has been raising bison for over 40 years in northeast South Dakota, just west of Sisseton.  What started out as just a fun little gig with 7 head has turned into a herd of over 400.  In his twenties, Dad raised cattle.  He calved out over 200 head every year, pastured yearlings, and had feeder cattle.  Didn't take him long after getting those 7 head for him to realize he wanted to grow his bison herd.  As the bison herd grew, he slowly sold off his cattle herd got until he was 100% bison ranching.  The ranch in South Dakota is called Rocking P Ranch.  Every year he has had a live auction where he sells his calf crop after our annual roundup.  Buyers show up from all across the country and bid in person and the online simulcast to buy from his exceptional herd. 
Bollmeyer Farms, Hinton, Iowa, Owners, Lance & Rachel Bollmeyer (Bruce & Corrine's Daughter & Son-in-Law)
Two years ago, Dad came to my husband Lance and I to discuss selling our bison meat online.  Lance and I own Bollmeyer Farms, raising corn and soybeans on the farm that Lance was born on.  How could we make this work with the herd in South Dakota and us in Iowa, 250 miles away?  After many telephone calls, research, meetings in person, and a lot serious family discussions, we formed Heritage Bison Ranches.  
Dad, and I quote "My life is not going to change...I will still only take care of the big herd in South Dakota.  I will help you any way that I can, but you kids (me, my sister Robin in Texas, and brother John in Georgia) need to do the rest."  Haha Dad.  Jokes on you!
Dad hand selects the bison that are raised on his 2,000 acres of native prairie in South Dakota that are ready to be harvested and brings them to us, here at Bollmeyer Farms.  Here, we put 90 days of corn and alfalfa on them, that we raise ourselves, before they are harvested at small, local, State and USDA Certified lockers we know and trust.  Once harvested and processed, the bison meat is stored here at our farm in Iowa, and packaged and shipped all across the country. 
Heritage Bison Ranches=Rocking P Ranch + Bollmeyer Farms
The name signifies the uniting of two farms and ranches into one, to bring you the healthiest and best tasting bison meat in the United States.  We promise hard work and transparency, along with a lot of prayers and help from the Almighty up above, in hopes we will continue to do so for many years to come.  Our heritage depends on it.  
(Mom actually came up with the name, it came to her in a dream, but that's another block post I will save for later.)
---