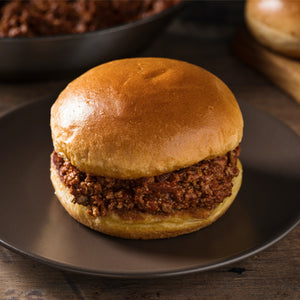 Momma Corrine's Best Ever BBQ/Tavern/Maidrite Recipe
Momma Corrine's Best Ever Bison Barbecues/Taverns/Maidrites Recipe
1 lb. Heritage Bison Ranches 97% lean ground bison
1 can condensed tomato soup (we like Campbells)
1 small onion chopped
1/2 cup ketchup
1 TBSP yellow mustard
1/8 cup brown sugar
1 tsp Salt
1 tsp Pepper
Brown the ground bison with the chopped onion and salt and pepper. No need to drain any grease here because our ground bison is 97% lean so there won't be any! Add the tomato soup, ketchup, mustard, and brown sugar. Simmer for 20 minutes and serve on homemade buttered buns for the healthiest and best barbecues/taverns/maidrites you've ever had!
Our ground bison brings added flavor to all your dishes. Substitute all your recipes with bison for healthy eating. Learn more about the health benefits of bison on our website.
Stock up now for winter!
Order our Heritage Bison Ranches Bison Box with 10 lbs of our best selling 97% lean ground bison and save $1/lb.
Regularly $159.90 always on sale for $149.90
---