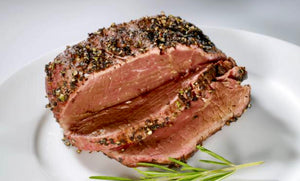 Bison Roast Recipe
Herb Rubbed Bison Tri-Tip or Sirloin Tip Roast-Virginia Williams (Heritage Bison Ranches customer, Mom's cousin, and one of our biggest fans!)
Ingredients:
1 tsp paprika
2 tsp kosher salt or 1 tsp salt
1 tsp garlic powder
½ tsp. dried oregano, crushed
½ tsp dried thyme, crushed
½ tsp ground black pepper
½ tsp onion powder
2 tbsp. olive oil
1-1.6 lb boneless bison tri-tip or sirloin tip roast
Directions:
In a small bowl combine all dry ingredients and stir in the olive oil until well combined.  Spread oil mixture over entire surface of meat.  Place meat on a rack in a shallow roasting pan or place inside a seasoned cast iron pan.  Roast in a 375 degree F oven for 15 minutes.  Reduce oven temperature to 300 degrees F.  Roast 45 minutes more or until meat thermometer registers 140 degrees F.  Remove roast from oven, place on stove, melt 2 Tbsp butter in cast iron pan or roasting pan and add the roast, flash searing on both sides for 30 seconds-1 minute max.  Remove and wrap tightly in foil and set aside.  Add 2 tsp flour to pan drippings and whisk until blended and add ½ to 1 cup water (I used potato water after boiling potatoes for mashed potatoes) and whisk until thick and smooth  Add more water if needed.  Slice meat thinly on the grain and spoon gravy over the meat.  Enjoy!
---