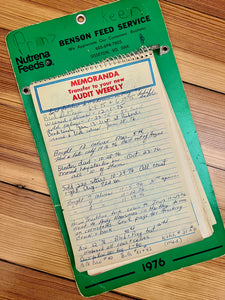 1976-Year 1 of Mom's Ranch Diary
Ranch Diary.  Mom has written about the day to day operations of the ranch since 1976.  What started out as a cattle ranch in 1973, as it slowly transitioned to a bison ranch, buying their first 7 bison in 1990.  Subscribe to our newsletter to keep up with all the latest happenings at the ranch.
Subscribe to Heritage Bison Ranches Newsletter
Here's the first week Mom ever kept in her diary.   
December 14-20, 1975
Check back soon for more of Mom's Dairy! 
---